Meet Your Makers – Brook White
For our first installment of Meet Your Makers, we'd like to share with you a bit about the creator of Flame Run himself – Brook Forrest White Jr.  He's known for his large, vibrant glass pieces, but you won't always find him working down in the hotshop.  While he may not always be blowing glass, you will almost always find Brook here, wearing the many hats that it takes to keep a successful business running.  And yes, sometimes that means ordering pizza for the entire staff!
Here's just a bit about the mastermind behind Flame Run:
Name: Brook White
Hometown: Owensboro, KY
Favorite Artist: Wassily Kandinsky
Medium/technique of choice: hot glass
Position at Flame Run: Jefe
Years at Flame Run: all of them, of course! (14 years and counting!)
Flame Run nickname: Captain, Dad
Favorite Flame Run exhibit: Twist and Shout (2008)
What questions would you ask the boss if you had a chance?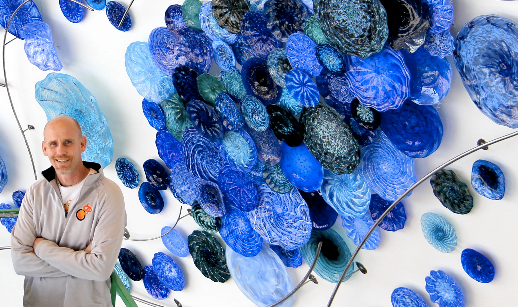 Check back in next Monday, when we meet the hotshop staff!