September 6 - October 25, 2019
The Godfather of Kentucky glass, Stephen Rolfe Powell, left behind a legacy in the lives he touched.  Among those he strongly influenced, were his assistants over the years.  None more than the ones that continue to pursue glass after their time as part of his team.
Flame Run has co-ordinated an exhibit of works by some of the many assistants, including:  Brook F. White, Jr., Thomas Spake, John Stokes, Adam Haigh, Matthew Cummings, Jonathan Capps, DH McNabb, Che Rhodes, Paul Nelson, Sam Spees, Patrick Martin & Paul Hugues
On display at Flame Run, September 6 – October 25
Reception and demonstration, Friday, September 20, 5:30pm to 8:30pm
June 19 - August 31, 2019
Showcasing work by local artists in both two and three dimensional works.
Glass work by: Brook F. White Jr., DH McNabb, Devyn Griley & Chuck Gerson
Two dimensional work by: Samantha Ludwig, Eden Luna, Matthew Christensen, Tiffany Ackerman & Rodolfo Salgado Jr.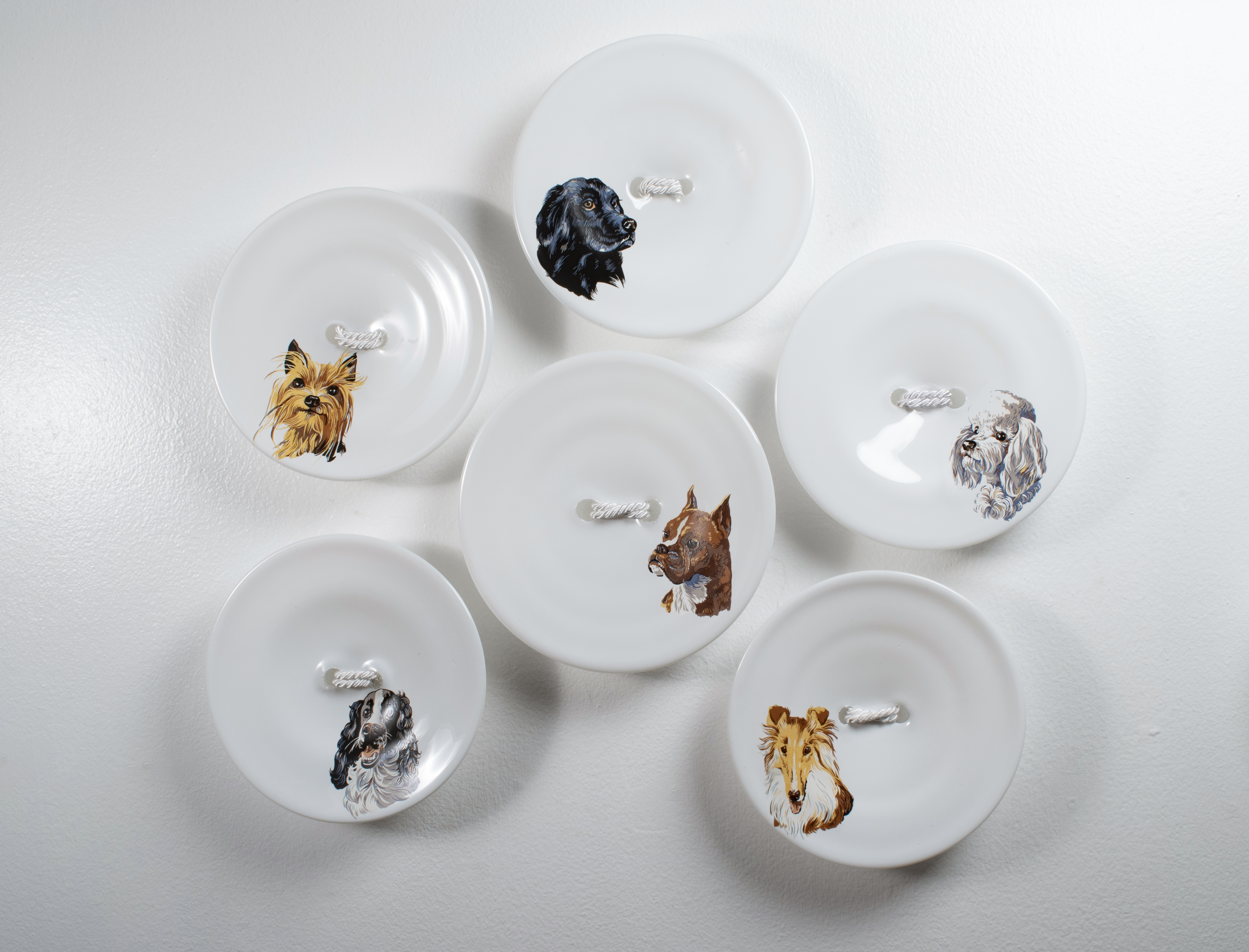 April 19 - June 1, 2019
Flame Run is proud to present the work of Nadine Saylor.
Nadine Saylor graduated from the New York State College of Ceramics at Alfred University in 2007 with her MFA in "Sculpture Dimensional Studies". She was an Artist-In-Residence at "Sculpture Space" in Utica, NY the summer of 2008. That same fall, she became an Instructor at Bowling Green State University where she taught glassblowing and glass casting for four years. Since then, Nadine has been an artist-in-residence at the Harbourfront Center in Toronto, ON and at the Pittsburgh Glass Center where she had an exhibition in the Hodge Gallery at its completion. She currently teaches at Southern Illinois University in Carbondale, Illinois.
"My installation entitled 'Notions" is a wall of about 50 larger than life buttons that are made out of glass with vintage ceramic decals fired on their surface. When going through a drawer, I found a jar of buttons. As I was looking through them, one of the buttons struck me. It had a design pattern of flowers and leaves on its surface in black and ruby. I remembered the dress that it came from and was interested in my memory of this dress. These buttons are a blank canvas through which I reference the world around me. I live on a farm in Southern Illinois with an array of chickens, goats and horses that depict as my local countryside. Not only does my current farm life play a part in my glasswork, I am interested in childhood memories and how they play a part in our lives. My imagery becomes a nostalgic place for the viewer to interpret life with his or her own recollections." -Nadine Saylor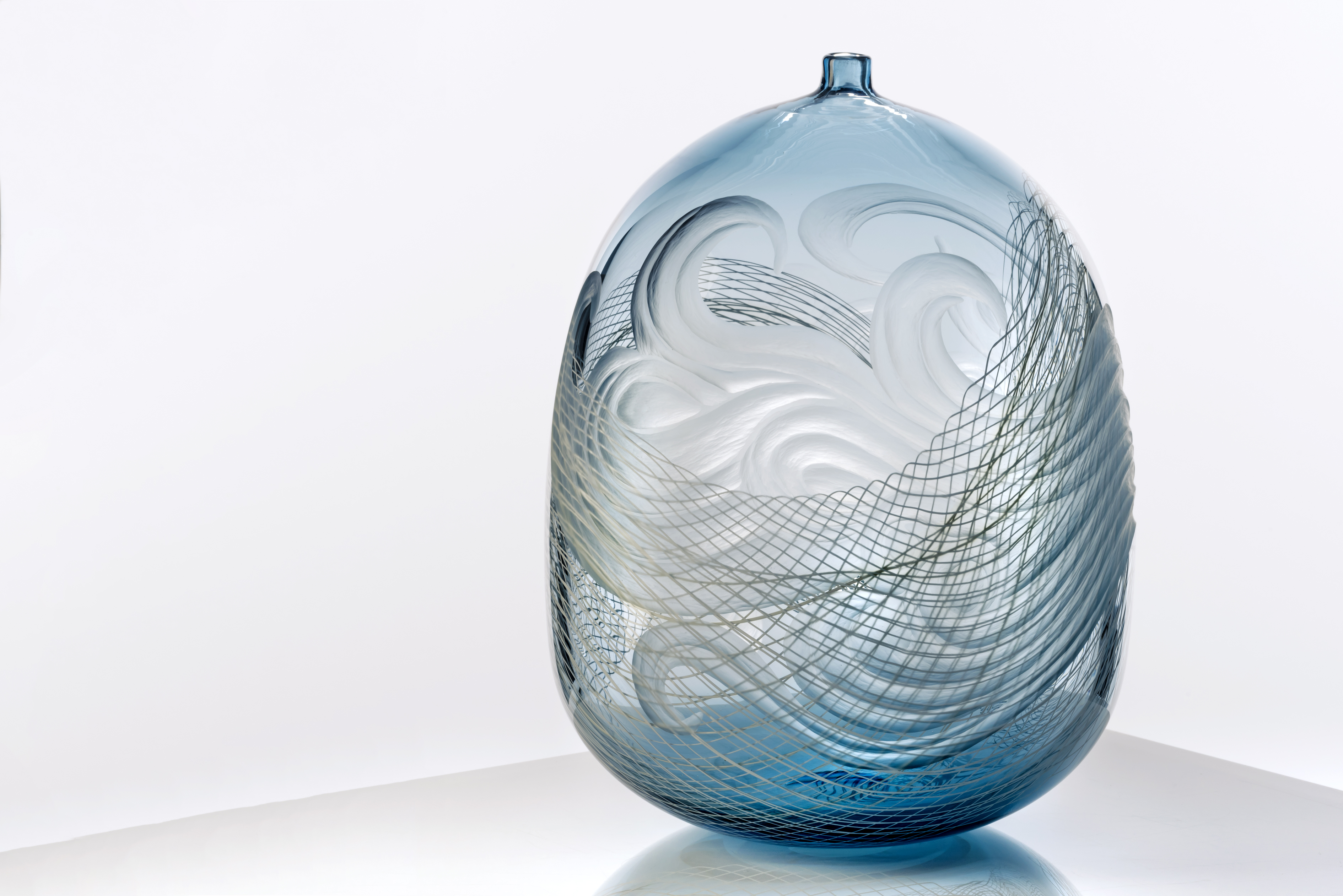 March 1 - April 13, 2019
This March, Flame Run Glass Studio and Gallery will host Australian Glass Masters, Ben Edols and Kathy Elliott.
Known for their extraordinary collaborations, this husband and wife team create delicate yet complex patterns and textures through glass blowing and carving respectively.
This high caliber exhibit emphasizes artists who create at the highest level and of art and technique.
Other featured artists include: John Miller, Paul Nelson, Devyn Griley, DH McNabb, and Brook F. White, Jr.
A demonstration by Ben Edols & Kathy Elliott and a reception will take place on Friday, March 22 from 6-9pm.
September 7 - November 10, 2018
Flame Run is proud to introduce the work of Nikolaj Christensen.
"With glassblowing, mastery is only achieved through hard work. It comes along with figuring out how to maintain focus despite sweltering heat, or burns, cuts, and innumerable other painful distractions that go hand-in-hand with life in a hotshop. It comes through learning to keep on going even if a minor slipup means hours of effort crash to the ground at the penultimate moment. Truly, the successes of our art form are measurable in blood, sweat and tears, in the most literal sense of the words."-Nikolaj Christensen
Gallery director, Tiffany Ackerman, says, "Nikolaj's clean forms, traditional shapes and easy going design will make for a spectacular exhibit.  We are thrilled to celebrate him with a showing of his latest works."
There will be an opening reception and demonstration on Friday, September 7 from 5 to 8 pm.
April 6 - May 27, 2018
This spring, Flame Run will display objects that stare back.
"The Mirror Dimension" will feature sign painter Alex Sublett, and highlight work by Philabaum Glass Studio, Brook F. White, Jr., and Flame Run.

November 14, 2017 - January 7, 2018
It's that time of year again! This year's All That Jazz Hoilday Exhibit is going to include something for just about everyone on your list.
From $20-$2000, we have it all. We'll gift wrap and ship many items, and we have helpful suggestions if you're stumped. Don't forget to give the gallery a call to start or continue the family traditions with our Blow-Your-Own ornament project!
Can't visit us in person? No worries. Click HERE to buy gift certificates for the nice list from the comfort of your favorite chair and fuzzy slippers. 
September 1 - November 11, 2017
Flame Run is exhibiting the work of Louisville artist, Ann Klem, in "Feature: Ann Klem Glass." 
Each piece of Klem's art glass reveals her love of the design and creation process, the taste for technical challenges and the beauty of a well-finished piece. Strongly influenced by geometry, repeatable patterns, and phenomena such as crop circles, Klem designs her pieces for beautiful yet functional art.
Klem stated, "My 'engineered' approach to designing glass creations comes from an earlier career in computers and designing accurate, predictable, complex processing systems. My lifelong love of color extensively influences the components incorporated into the finished pieces, and my love of working with my hands pushes the shaping and polishing steps I use to give a professional, artful finish." 
Beginning with large sheet glass, Klem creates custom pieces, incorporating one into another, assembling and fusing them together. She then slices, grinds, sandblasts, or extensively shapes the resulting glass to enhance the visual impact of the piece. Further firings, shapings, and polishings produce finished trays, vessels and sculptures. 
"Features: Ann Klem Glass" will be on display September 1st through November 11th, with an opening reception coinciding with Frist Friday Gallery Hop 6-9pm the evening of the September 1st. A live glass blowing demo by Flame Run artists will take place in the studio at 7pm. 
June 2 - August 31, 2017
Inspired by themes from the "Hunger Games", Flame Run will be featuring work by artists from all over the nation in the gallery this summer.
"We were thrilled to hear that the Frazier Museum is hosting "The Hunger Games: The Exhibition" and wanted to show support with an exhibit of our own."  says gallery director Tiffany Ackerman.  "In many ways, the themes from the Hunger Games can be related to life as an artist.  You hope to gain patrons and popularity to help you on your path, and success is not granted to all.  In the world of art, and specifically with reference to the temperamental nature of hot glass, may the odds be ever in your favor."
An opening reception and demonstration is scheduled for Friday, June 2.
Featured artists include: Steve Ciezki, Mike da Ponte, Paul Nelson, DH McNabb, Brook F. White, Jr., Rachel Erickson, Tiffany Ackerman & Casey Krueger, Luke Jacomb, and Nicole Stahl
---